About Wes
…………………………………………………………………………………………………………………
WES PICKS UP PREMIER LEAGUE POINT
The Warrior secured his maiden Premier League point after his week 3 game with Robert Thornton in Bournemouth resulted in a draw. Wes established a 6-3 advantage thanks to three 100+ finishes and 4 180′s, and but for a missed dart at double 7 for an attempted 88 checkout, could have left the stage celebrating his first Premier League victory. Afterwards he said, "It was a big game tonight for me because the longer you go without a win, the greater the pressure gets.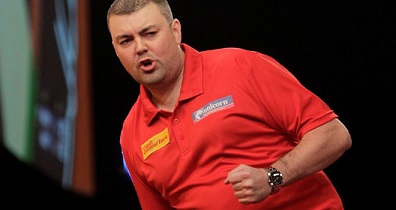 "I played a lot better than I did in the first two weeks and I'm up and running now on the league table. "When I was 6-3 up I thought I was going to get the win, so I'm a bit gutted to be only walking away with a point, but Robert didn't give up. "I'm starting to play well again - it's a big game for me and Adrian (Lewis) next week and a must win situation for both of us."
Lifelines
| Question | Answer |
| --- | --- |
| Nickname: | The Warrior |
| Date of birth: | 27th August 1977 |
| Place of birth: | Blackpool |
| Hometown: | Fleetwood |
| Marital status: | Engaged |
| Children: | Fraser Wesley Newton |
| Occupation before darts: | Accounts Assistant |
| Hobbies: | Football (watching), swimming, cycling, watching films |
| Sponsors: | Unicorn Darts |
| Darts used: | Unicorn Wez Newton Gold 22gm |
| Best darts moment so far: | Reaching 1st TV Final - UK Open 2011 |
| Practice partners: | Mostly myself but with Barrie Bates at competitions |
| Favourite double: | D16 |
| Favourite food: | Indian curry or Chinese - love 'em both |
| Favourite drink: | Cup of tea, lager, vimto |
| Favourite holiday destination: | Las Vegas |
| Favourite music: | 80s and power ballads |
| Walk on music: | Crazy Crazy Nights by Kiss |
| Favourite movie: | Predator, Stepbrothers, Dumb and Dumber, Anger Management |
| Favourite PDC event: | World Matchplay, Blackpool |
| Favourite TV programme: | Mrs Brown's Boys, Not Going Out, Trailor Park Boys, Match of the Day |
| Favourite football team: | Liverpool and Fleetwoood Town |
| Sporting heroes: | Steven Gerrard, Lennox Lewis, Mike Tyson |
WES MAKES A TENTATIVE START TO PREMIER LEAGUE DARTS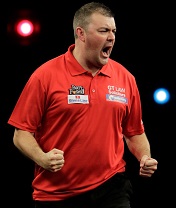 Wes left Belfast's Odyssey Arena in an optimistic mood following his opening game defeat to James Wade in the 2013 Premier League darts. "It was an awesome experience and brilliant to be on stage in that atmosphere, but it would have been better if I'd won!
"I was a bit nervous, and maybe that showed in my finishing because I missed a lot of doubles. "I was a bit rusty on my finishing and that cost me the game, but I'll be back." The pair shared the opening four legs before Wade cashed in on Wes' double trouble to forge a 3 leg advantage. Wes then reeled of consecutive legs to break back and reduce the deficit to just one leg. With the score now 5-4 in favour of Wade, Wes again missed crucial doubles as Wade went on to secure the 7-4 win.
Achievements
| Championship | Year/s |
| --- | --- |
| World Championship Quarter Finalist: | 2011 |
| World Matchplay Quater Finalist: | 2011 |
| World Grand Prix Round 2: | 2005, 2009, 2010 |
| Grand Slam Group Stages: | 2008, 2010 |
| Championship League, Initial Groups, 5th: | 2008 |
| Las Vegas Desert Classic Semi Finalist: | 2005, 2006 |
| European Championship Last 16: | 2010 |
| UK Open Finalist: | 2011 |
| US open / WSoD Last 32: | 2007 |
| Players Championship Finals: | 2010, 2011 |
| Players Championship (Irvine) Winner: | 2009 |
| Players Championship (Wigan) Winner: | 2010 |
| Players Championship (Barnsley) Winner: | 2010 x 2 |
| Players Championship (Crawley) Winner: | 2011 |
| Canadian Open PLayers Championship Finalist: | 2011 |
THE WARRIOR SIGNS SPONSORSHIP DEAL WITH CASH CONVERTERS
Wes makes his Premier League debut tonight at the Odyssey Arena, Belfast which coincides with a new sponsorship deal throughout 2013 with Cash Converters. Signed earlier this week, the deal with the high street chain follows a hugely successful couple of years for Wes on the PDC circuit which has seen him establish himself well inside the top 10 of the Order of Merit. Head of Marketing for Cash Converters Richard Livesey expressed his delight at the prospect of supporting Wes, "He is one of the most exciting and promising players on the darts circuit at the moment and we are backing him to go all the way in 2013."
Wes added, "To be asked to be involved with a company as respected as Cash Converters only proves to me that hard work does pay off, I look forward to forming a great relationship and no doubt will be seen in a High Street near you. "There are exciting times ahead for me and I thank everyone involved for their belief in me".
Sponsors
…………………………………………………………………………………………………………………