Welcome to Wes Newton's Website
…………………………………………………………………………………………………………………
It is a testament to hard work and no little amount of skill that Wes Newton is now one of the best darts players in the world. Currently ranked No.5 in the world, a first 'Major' TV Final and becoming a Dad for the first time….life is pretty good for the young man from Fleetwood. It has taken a lot of blood, sweat and tears but if any player deserves success off the back of dedication and passion for the sport, it is Wesley Newton. In June 2011, Newton enjoyed the best month of his life. He fought his way through to the final of the UK Open in Bolton and celebrated becoming a Dad, with partner Stacey, to a son Fraser Wesley Newton.
But in years to come, Newton will hope to look back on the landmark moment at the Reebok when after so many years of trying, he made it to a TV Final. After victories over John Henderson and Michael van Gerwen, he then thrashed Raymond van Barneveld 9-1 with one of his best ever performances on TV….wins over Dave Chisnall and Denis Ovens in the quarter and semi-finals set up a final showdown with Unicorn stablemate James Wade. Newton though, was edged out 11-8 as he ran out of steam…..but consolation came in the shape of a cheque for £20,000 and a guaranteed spot at the Grand Slam of Darts for two years.
"It was a great achievement for me," he said. "But this is just the start. I know that I can win a big TV event and I will achieve my dream." It isn't so long ago, that Newton had dropped out of the elite top 32 and he was starting to question whether a career in the sport was the right path for him….he had hit a all-time low, spent a year without an appearance on television and the future looked bleak. Now, he has fought his way into the top 10 in the PDC Order of Merit and after a rollercoaster ride, Newton is now looking to consolidate and then push on again as he continues to set new targets. And 2011 is turning into quite a year….a World Championship quarter-final, a change of nickname to 'The Warrior', a place in the elite top 10 and fatherhood, added to the UK Open runner-up spot!
On top of all that – a new contract with Unicorn and promotion to the 'Maestro' category at Team Unicorn and you can see why Newton is ready to take on the next part of his plan. "I am a great believer in loyalty. Unicorn is the best darts company in the world and they stuck by me when things were pretty rough a couple of years back, which is why it was very important for me to stay on board as we hopefully look towards a very bright future," he said. Newton continued: "I have always set goals and next for me is a big TV win, then the top five and a place in the Premier League. I know those aims may sound ambitious but there is no reason why I can't achieve them over the next two or three years." It has been a long road for Newton – from struggling to balance work and darts, to losing his job and the sudden realisation that the pressure was well and truly on to go and make a success of darts and to his credit….that is exactly what he has done. The 33-year-old is now one of the most consistent performers on the circuit and one of the most feared players on the PDC Pro Tour……he now wants to transfer that success away from the TV screens into the major tournaments in his quest for more success. We witnessed a glimpse of what he has to offer in 2005 and 2006 when as a qualifier, Newton reached the semi-finals of the Las Vegas Desert Classic. But he has had to be patient and now the rewards are coming.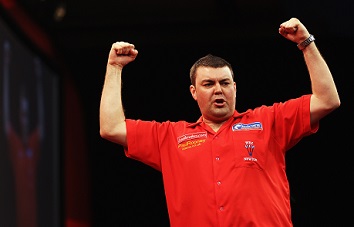 "It was demoralising when I didn't kick on from those two years in Vegas and for a while, nothing went right," he said. "But there was only one person who could do something to change it and that was me!" "When the job ended a couple of years ago, things changed. I always knew that I had the game to give it a real go in the world of darts and I put the hard work in…..winning on the Pro Tour, qualifying for the Grand Slam and discovering that I didn't like losing, all contributed to helping my confidence. I really started to believe in myself and what I was doing and it all started to click into place," Newton revealed. And results tell their own story! In 2010, he won four tournaments on the Pro Tour, reached four other semi-finals and no fewer than seven more quarter-finals…..he was the best player in 'floor' events during the year! And there was one magic weekend in Barnsley back in November 2010, when Newton joined an exclusive darting club. He became only the fifth player to win both events on a Pro tour weekend…..and better than that, he also qualified for the Grand Slam of Darts as well….it was an incredible 48 hours! There are now six names on that list, since Unicorn stablemate Gary Anderson achieved the feat in June 2011. Phil Taylor, Mervyn King, Robert Thornton and Adrian Lewis are the other players to achieve the Pro Tour 'Double' and on that weekend in South Yorkshire, Newton looked unbeatable.
Including the Grand Slam qualifier, he won 20 consecutive matches…..a fantastic achievement and in the two Players Championship Finals, Newton recorded convincing wins over Colin Lloyd and Mark Webster. And more Players Championship success followed in 2011 with yet another tournament win, when Newton came from 0-3 down to beat Paul Nicholson in a final in Crawley! Perhaps the biggest disappointment of Newton's career came when he achieved one of his best results…..he reached the quarter-finals of the 2011 Ladbrokes.com World Championship at the Alexandra Palace and in his heart of hearts, he knows he should have gone at least one step further. Read more news here. Newton lost an epic all Unicorn quarter-final to Terry Jenkins at the Ally Pally – going down 5-4 after being 4-3 in front. In the end missed doubles at key moments cost him, but it was another giant step in the right direction. And in February 2011, he reached the quarter-finals of the Players Championship Finals for the second consecutive year, only to lose to eventual winner Taylor in Doncaster. 'The Warrior' also battled his way through to the quarter-finals of the UK Open in Bolton in 2010, only to save his worst performance for the biggest game and he was well beaten by Denis Ovens on that occasion.
And it was at the Reebok that Newton was on the receiving end of a bit of darting history…..he was hit by a Phil Taylor 9-darter at the 2008 UK Open Finals! But Newton also has happy memories of his own first 9-darter in competition…..he has missed several opportunities since as well, but at the last ever PDC trip to Las Vegas in 2009, Wes finally hit the magical 9-darter. It came in a Players Championship event against fellow Unicorn star Colin Osborne….Wes actually lost the match, but it was another tick in the box for the man from Fleetwood. There is every reason to believe that his achievements over the last couple of years are only the beginning of something special. Many years ago, it was Unicorn Managing Director Edward Lowy who spotted Newton's potential. "I saw Wes play in the Las Vegas Desert Classic in 2005 and was very impressed. I thought he was tremendous again in 2006 at The Mandalay Bay. I introduced myself and it went from there! And he thoroughly deserves to take his place in the world's top 10." As we mentioned earlier, Newton has a taste for the bright lights of The Strip in Vegas – reaching the semi-finals twice. In 2005, he lost to Taylor….and in 2006, having qualified again, he was beaten in a close semi-final by John Part. Newton picked up the darting bug from dad Colin and by the time he was 16, he was winning local league tournaments, before graduating to county level with Lancashire. Everyone can see Neton's stats. That grounding has helped him to where he is today…..but it isn't enough for Newton. He wants more and he is determined to deliver more on his relentless pursuit of a TV 'Major' and a place in the Premier League. He has proved the doubters wrong many times in the past…..he will do it again in the future!
Sponsors
…………………………………………………………………………………………………………………